Natural heritage and wildlife
The contrasting landscapes of unspoilt beauty with over 200 miles of coastline, rolling hills, moorland, forest, mountain and river make enjoying the outdoors a pleasure whatever the weather. There is an abundance of wildlife in the region including red deer , wild goats, red squirrels and birds of prey.
Below are just a few of the places of interest.
Red Kites

The Galloway Kite Trail around beautiful Loch Ken has been developed by RSPB Scotland. The trail includes various facilities around the Loch such as footpaths, viewpoints, information points, CCTV (in summer), release cages and RSPB Scotland's Ken-Dee Marshes Reserve, all of which are good places to see kites and other wildlife. A feeding station with a hide has been established at Bellymack Hill Farm near Laurieston, and over 30 kites have often been seen together over winter months. These have included many of the birds released in 2003, as well as adult birds and two individuals that arrived from other populations. The site also offers good views of raven and buzzard. Large numbers of kites are best seen in late afternoon in the winter months, but there are generally some kites around all day at any time of the year.
Mersehead Nature Reserve, Dalbeattie
The nature reserve has a visitor centre, all year round bird and wildlife watching, wetland/costal trails, hides and events.
Kircudbright River Trips
The trips, on a specially designed river trip vessel, take in the views of the local landscape and the bay and provide a chance to enjoy the varied wildlife in the area.
Galloway Deer Range
The deer range offers a guided tour through the range, mingling with stags, hinds and calves.
Historic Attractions
From stone circles, ruined abbeys, ancient battle sites to imposing castles, Dumfries and Galloway offers everything you could wish for to enable you to discover the true history of Scotland .
Sweetheart Abbey

The splendid remains of a late 13 th Century and early 14 th Century Cistercian abbey founded by Devorgilla, Lady of Galloway. The abbey is built of deep red local sandstone and makes a lovely place to visit to explore Scottish history.
Dundrennan Abbey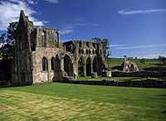 Mary Queen of Scots spent her last night on Scottish soil in this Cistercian abbey founded by David I.
Robert Burns House

The simple sandstone house in Dumfries where Scotland 's national poet spent his last years is now a place of pilgrimage for Burns enthusiasts. There are also many other places in the area to visit that are connected with Burns including his farm and his favourite inn or you can travel along the coastline where he sought out smugglers in hidden coves.
MacLellan's Castle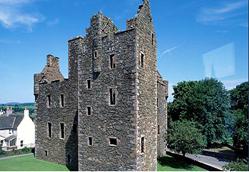 Set in the town of Kirkcudbright this is not a castle in the traditional sense and was not built as a fortified castle. Completed in 1582, It has survived complete apart from its roof.
Contact: Denise Lawrenson on 07774 614711 or Lynette Dean on 07721 521772
For further information please email us at - info@forestnooklodge.com